Exploring Friend tech - What Is It and How Does It Work
2023-09-04
You might have heard of Friend.tech, the new buzz in online communities that's making waves on platforms like Twitter. People are scrambling to get their hands on invite codes to join this unique social app. So, what's all the fuss about?
Imagine a social network where your friends and their networks are like valuable shares or keys. Each user is like a unique social token in this decentralized social app. You can invest in your friend's social network or any group of users, essentially turning their credibility into a token. It's a whole new way of thinking about social interaction!
But that's not all. There are also shares available. These shares grant you access to exclusive influencer-specific chat rooms, special content, and more. It's like getting VIP access to your favorite influencer's inner circle. As of August 21, 2023, Friend tech has already attracted over 80,000 users, with more than 1 million trades adding up to a staggering $50 million.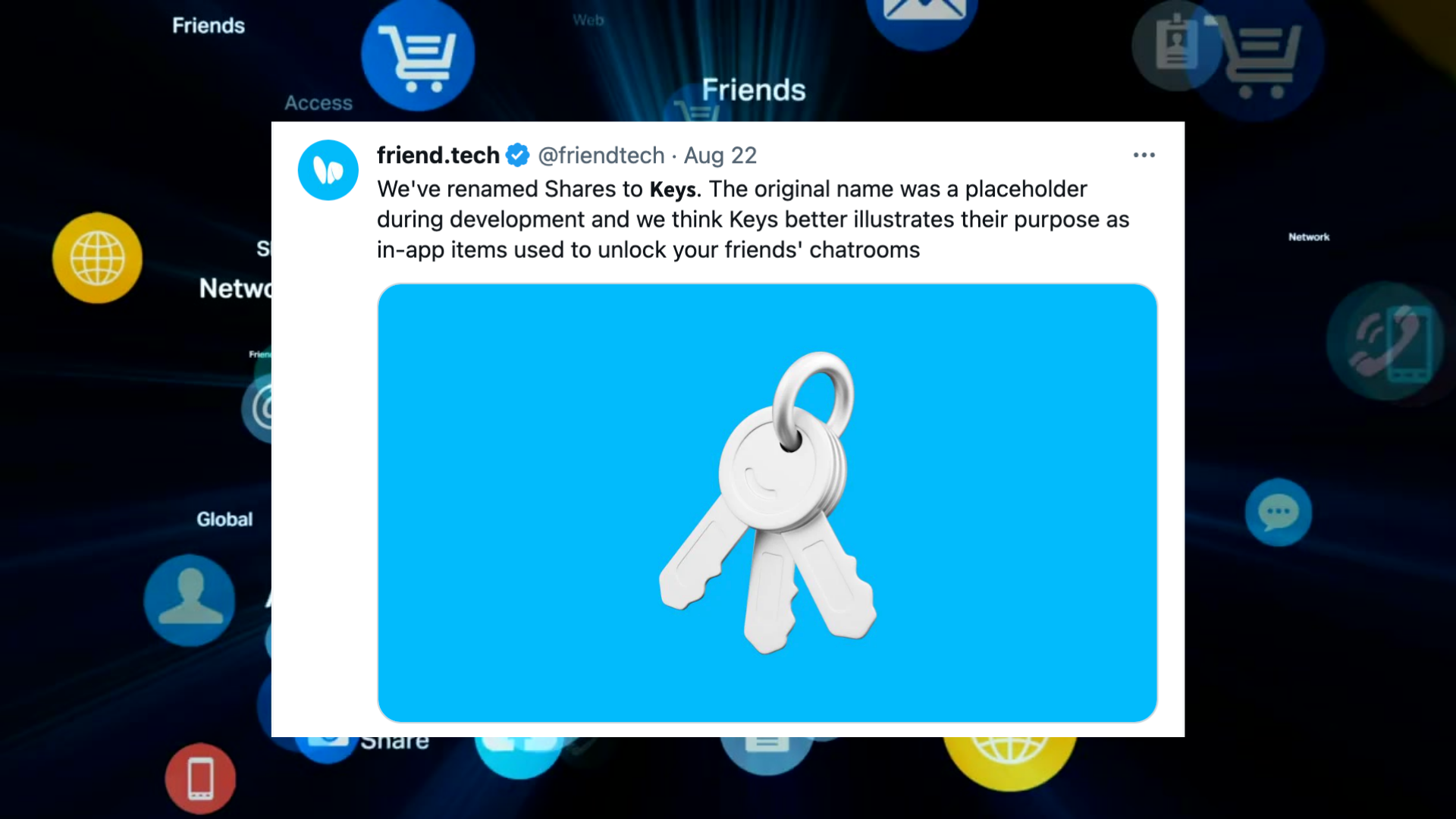 Now, who came up with this ingenious idea? Well, it was the brainchild of Twitter users oxRacerAlt and Shrimppepe. These innovators have a track record of successful projects, including Stealcam. Friend.tech, while primarily a social app, has stirred up many interpretations. Some see it as a hub for crypto personalities, while others view it as the breeding ground for the next generation of creator tokens.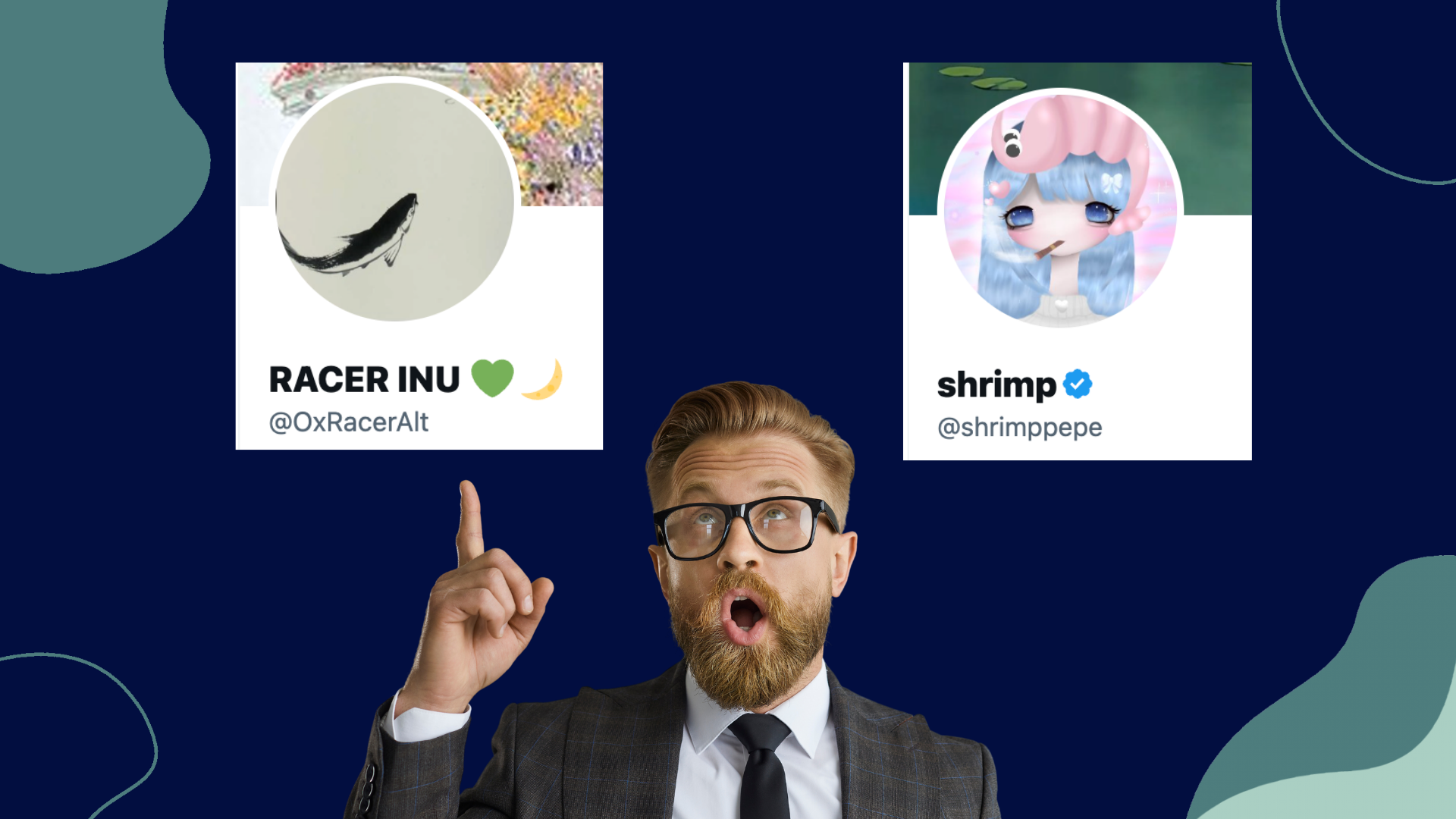 Simply put, Friend.tech is all about monetizing creators. Followers or users of Friend.tech can purchase shares (keys) to gain direct access to their favorite influencers. This is like the ticket to enter a special group. If you decide to leave the group, you can sell those shares to someone else.
But what's the technical side of Friend.tech? Think of it as a DApp (Decentralized Application) built on top of the Base Network. This network is a layer-2 solution for the Coinbase ecosystem. Among the various apps on this network, Friend.tech stands out as one of the most popular.
How Does Friend.tech Work?
Now, how does Friend.tech actually work? Picture yourself as a user or follower who wants to join a specific influencer's group. You can buy shares that give you a direct line to that influencer and access to their private group chats. The money you spend covers a platform fee and also benefits the influencer. Whenever you buy or sell shares, a 10% fee is charged, and half of that goes to the seller or buyer, while the other half goes into the Friend.tech treasury.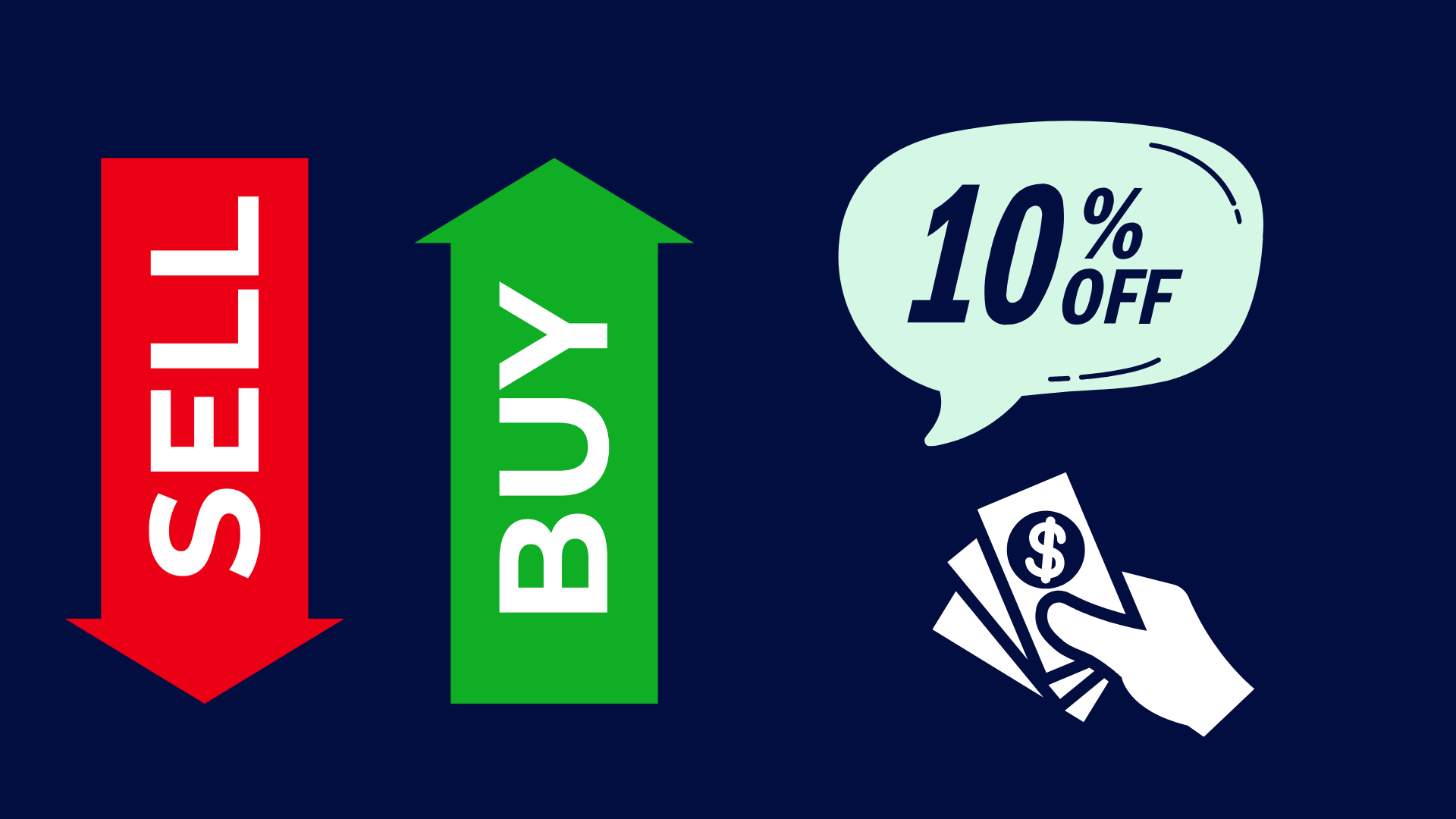 Unlike other decentralized social networks, Friend.tech allows you to turn your presence into a token. As the influencer's group grows, so does the number of group shares. However, this doesn't decrease the price to join or the share price. Instead, it raises the base price of joining the group. If you want to leave the group, you can sell your shares to liquidate your investment.
Benefits and Concerns
Thinking about getting on board with Friend.tech? Well, you need an invite from a friend or another user. To start, you'll need to install the app, log in with your Ethereum wallet, and deposit a minimum of 0.01 ETH into your Base account using a bridge. Keep in mind that the deposit bridges can be slow.
Now, let's talk about some concerns. Privacy-wise, there's an issue with linking your Twitter (X) account. To enhance your privacy, it's recommended to disconnect your "X" account from the application. There was also a bit of commotion around a "Leaked Database" incident related to Friend.tech, but it turns out that the information was already public and not actually leaked.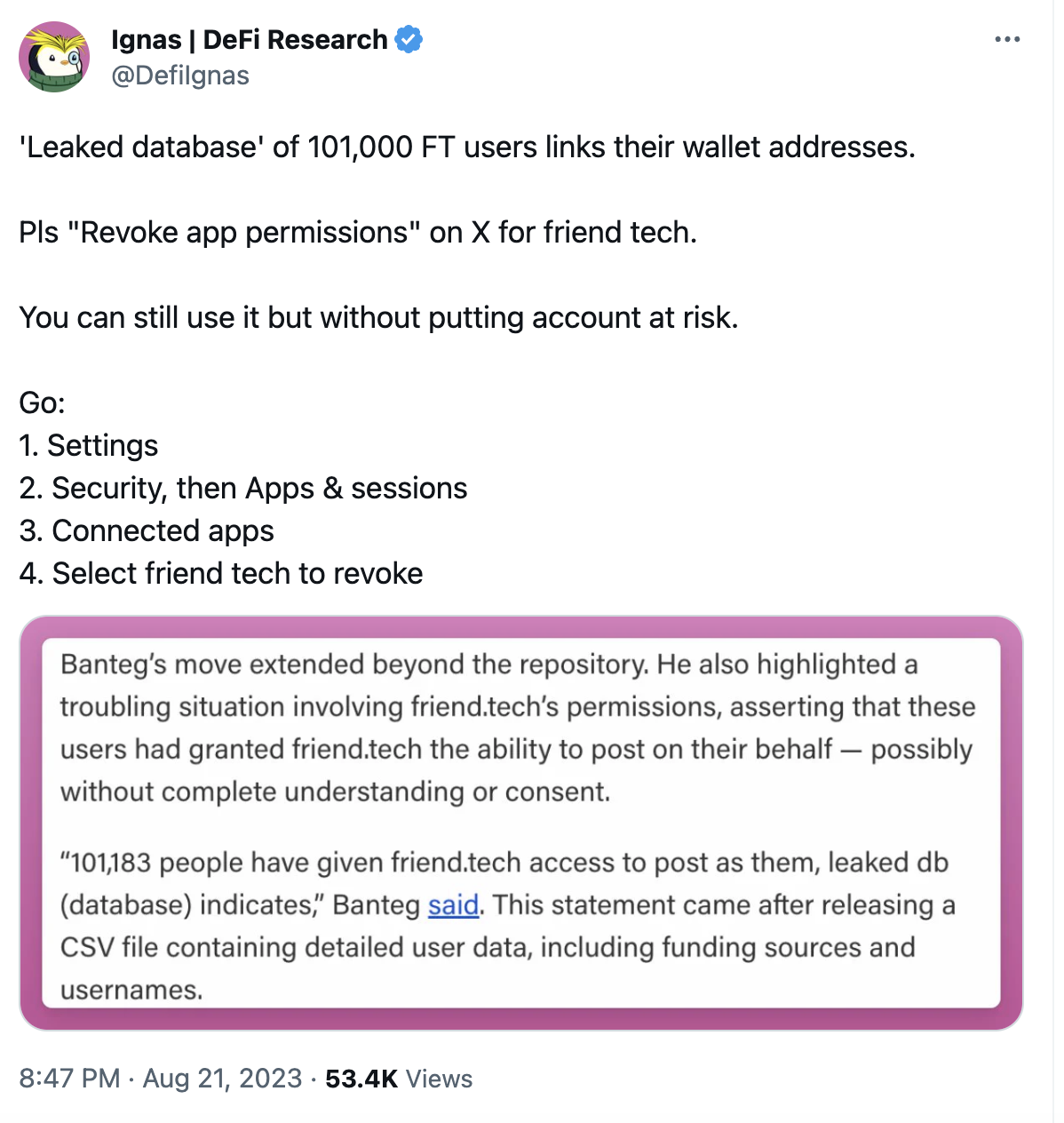 On the security front, some have raised eyebrows about the co-founder credentials. Shrimppepe, one of the names behind the project, was linked to security fraud. Also, both Shrimppepe and 0xRacerAlt were associated with a failed NFT project called Kosetto. Additionally, the absence of a privacy policy on the website might be a concern for some users.
Conclusion
So, what's the current state of Friend.tech? As predicted, the initial hype around this social media dApp has cooled off somewhat, and network activity has decreased. Network fees have also gone down, possibly reflecting the end of a recent crypto frenzy. There's even talk of spurious accounts being created to revive the platform, and there might be a connection with the adult social media platform OnlyFans, which is reportedly investing in Ethereum.
And that's a wrap on Friend.tech! If you're about joining Friend.tech, make sure you're aware of the potential pros and cons.
Closing Thoughts
As always, we would love to hear your feedback! Please let us know your thoughts about our content, along with any suggestions for improvement through our Twitter account or Telegram channel.
Stay tuned for announcements of upcoming online events such as CryptoZombies Live Workshops and special guest online meetups.
Follow us on Twitter @CryptoZombiesHQ or signup to our mailing list or start a free course @ https://cryptozombies.io.